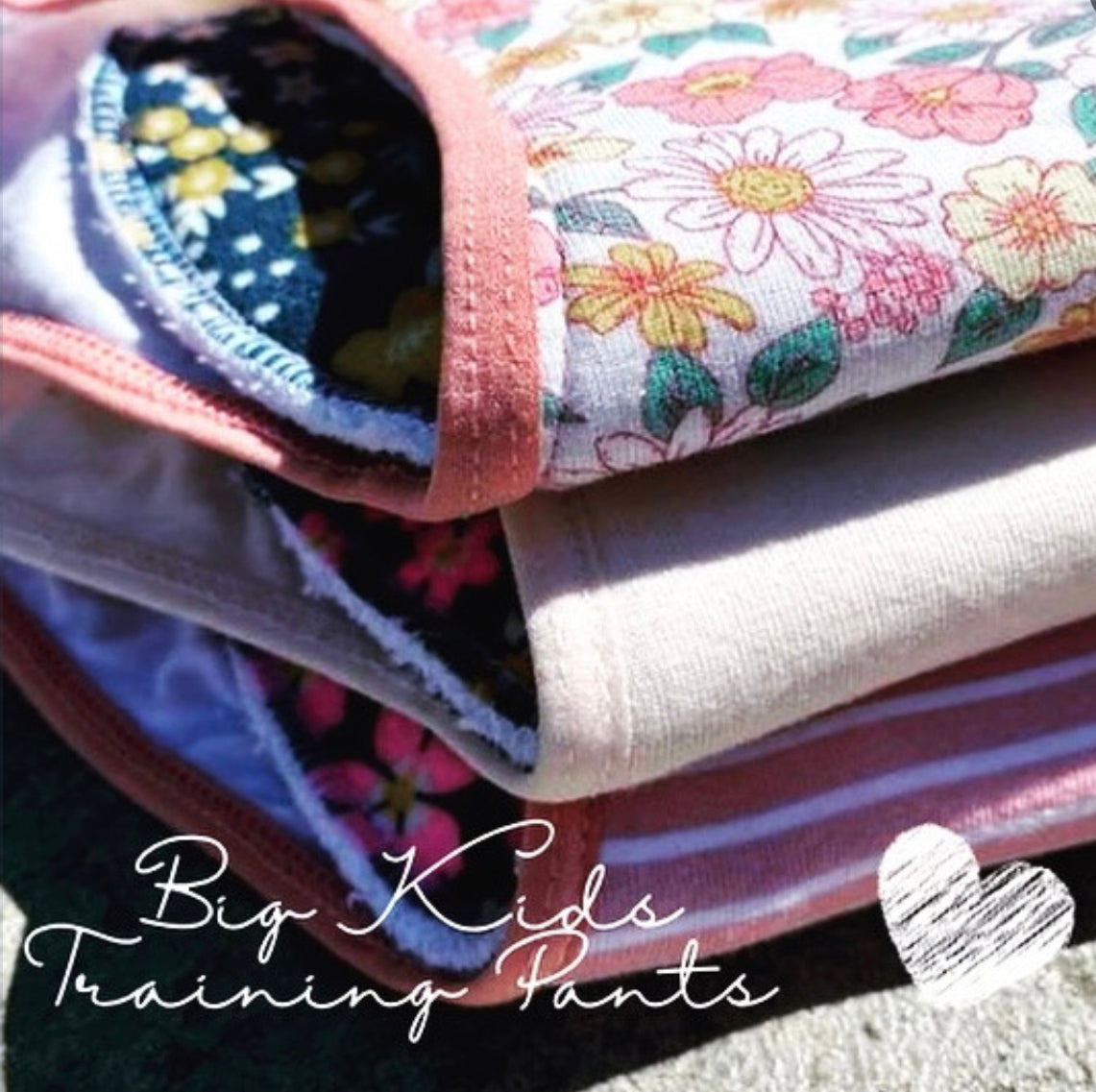 Incontinence Pants for Older Kids
Please select all options.
Our amazing incontinence and encopresis (soiling) briefs for children and teens 
         

             Leakproof             

Absorbent

Reduce smell

Give them confidence

Easy to wash and dry
With a large pad sewn into normal briefs these look and feel like undies. They are discreet and are designed so that only the child knows they have a pad inside. They hold 50-200ml depending on size and thickness of pad. They are very much more absorbent than most other incontinence pants and period pants on the market.

The pads have an upper layer (microfleece or flannel), one or two layers of natural absorbency and a waterproof lower layer.
Choosing the pad type for your child's needs : 

Choose flannel pad upper layer for children who are actively training and can respond and change when they wet, or who are actively night training.
Choose microfleece pad upper layer for children with constant bladder leakage, or soiling combined with wetting problems. This pad wicks moisture away from the skin faster than flannel and also cleans easier with soiling accidents. 
Choose a soiling pad for children who just have 'skid marks' or soiling uncomplicated by urinary incontinence. 
Choose a slimline pad for children who wet less than 50mls

Choose a full thickness pad for children who wet more than 50mls 
Even thinner pads available on request -  if your child tends to dribble urine (very small volume wetness that may not reach outer layers but does smell and become uncomfortable) we can make a super slim pad . Please contact us to request. 

Night Training -  incontinence briefs are ideal for children who are in the last stage of night training : wetting smaller volumes or who are having dry nights already and need a confidence boost 'just in case'.  Choose our flannel topped pads for this purpose. We recommend pairing with a brolly sheet as backup in case they don't wake on wetting. If your child needs more absorbency than these briefs , our Shorties style pants hold greater volume.  If they are not yet at active training stage and need a nappy replacement then our Pullups are the product to choose. 
Current prints in stock vary but will be similar to what is pictured for each size. We understand some children may want to choose colours so just flick us a message either before or just after you've ordered if you would like details of what's in stock. 
We are very happy to work with you, making pants to meet your child's needs. Send us your child's measurements and details if you'd like us to ensure sizing is right.  Quotes provided on request.  
 Measurements of these briefs :
size 4-6   Waist  48-68cm   Leg 35-48cm
size 6-8   Waist 52-75cm   Leg 37- 52cm
size 8-10  Waist 56- 78cm  Leg 38- 56cm
size 10-12  Waist 58-80cm   Leg 40-60cm 
size 12-14  Waist  60- 84cm  Leg 43-65cm 
Larger sizes on request. Please use the contact button. 
A++++ service
Amazing helpfully lady I've even put in another order already!
Great underwear for added protection
We're very happy with our new big kids pants! They are giving our child extra confidence and catch everything that needs to not be noticed. We call them our comfy undies because the soft microfleece is soft on the skin!
Fabulous!
These have been great for my 5 year old starting school! They are giving her the confidence she needs and have helped eliminate her worries about having accidents in front of others.